2022 WAKE FOREST SOCCER CLINIC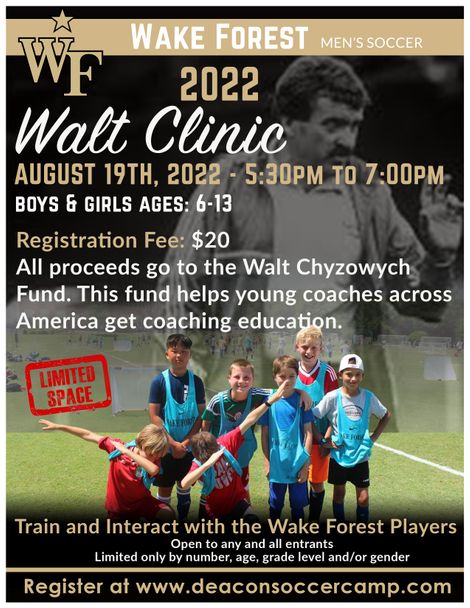 WAKE FOREST MEN'S SOCCER 2022 WALT CLINIC
Wake Forest University head men's soccer coach, Bobby Muss, to host a soccer clinic supporting the Walt Chyzowych Fund.
The impact that Walt had at Wake Forest was, and still is, tremendous. Wake Forest Soccer is in a class of its own when it comes to success, and Walt's impact on the program is not forgotten.
"We are so grateful for the support of Bobby Muss and Wake Forest in the mission of the Walt Chyzowych Fund. This is going to be a tremendous event for Wake Forest, the Walt Fund, and the participating soccer players." - Dr. Joe Machnik
The clinic on the 19th will be a day to celebrate the history of Walt at Wake Forest as well as provide world-class training for young soccer players.