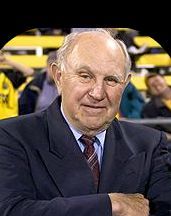 Walt Bahr
2010
How interesting and how appropriate that just days after the naming of Walt Bahr as the 2010 Walt Chyzowych Life Time Achievement Award recipient FIFA, the world governing body of soccer, drew the United States and England to open up Group Play in the 2010 World Cup as opponents.
The fact is that the last time the USA and England met in World Cup competition was in the 1950 upset USA 1-0 victory during which Walt Bahr assisted on the game's only goal. Soccer historians the world over have once again raised the Bahr legend and have placed Bahr and his 1950 teammates in the limelight. But there is so much more to Walt Bahr's soccer legacy.
"To add Walt Bahr's name to the now long list of soccer luminaries who have been honored by the WCMF is indeed an overdue honor and my personal privilege," stated Ralph Lundy, WCMF Executive Director.
The name of Walt Bahr is one of the most famous in US Soccer. Bahr's outstanding playing, teaching and coaching careers have been recognized by his induction in both the US Soccer (1976) and National Soccer Coaches Association of America (1995) Halls of Fame. Bahr played on both the US Olympic and National teams with 19 appearances for the National Team when games were few and far between.
After his retirement as a player, Walt Bahr became a highly successful coach at Temple and at Penn State Universities and with the Philadelphia Spartans and Ukrainians. He coached Temple from 1970 to 1973 and Penn State from 1974 to 1988 as well as Franklin High School for 17 years. His overall coaching record is 448-137-70. He was elected NSCAA Coach of the Year in 1979 and the Nittany Lion soccer team was selected to the NCAA tournament 12 times in Walt's 14 year career.
Walt Bahr's dignified reputation and affable personality led to his appointment as Head of Delegation for the US National team's qualification for and participation in the 1990 World Cup in Italy. It was during this time that he and lifelong playing rivals Walt Chyzowych, as US Soccer's Technical Director and Director of Coaching, and US Soccer President Werner Fricker were able to replay all the battles on the amateur and semi-pro playing fields of their hometown Philadelphia. The 1990 World Cup team was the first to qualify for the Finals competition since Bahr and his teammates upset England some forty (40) years prior.
Although the two Walt's (Bahr and Chyzowych) coaching philosophies were miles apart, there was a mutual respect for each's on field results and for the countless number of individuals that benefitted from their caring mentoring and guidance using the game as the focal point.
It is a little known fact that Walt Bahr was the supervising teacher to Gene Chyzowych's student teaching efforts coming out of Temple University.
"At a time when there were no coaching schools, books or video and certainly no internet, I had the great fortune to be mentored by the most recognizable player of his day," said Gene Chyzowych, also a NSCAA Hall of Fame member. "I shared my experiences with my brother, Walt, who began to emulate Bahr's playing style, especially his long range shooting and scoring abilities. Coach Bahr befriended my brother Walt and shared his coaching methodology, teaching skills and most of all his respect for and dedication to the game and its players. My brother and I both owe a debt of gratitude to Walt Bahr for the impact he has had on our respective lives and careers," continued Chyzowych.
Walt Bahr's three sons Casey, Chris and Matt all played soccer. Casey and Chris both played for the US Olympic team and in the NASL, for the Philadelphia Atoms and Colorado Caribou. Later Chris and Matt had legendary careers as kickers in the NFL. Daughter Davies Ann also carried on the family's sports tradition as an All American gymnast, while Walter's wife, also named Davies Ann was a championship swimmer at Temple.
When learning of his selection as the 2010 recipient of the WCMF Lifetime Achievement Award, Walt Bahr storied his special relationship with the Chyzowych family. "This is a very special honor for me," stated Bahr. "Walt Chyzowych was a very special soccer friend. I am proud to be thought of in the same way as Walt Chyzowych and to be included among those previously so honored."
-- Press Release, December 2009