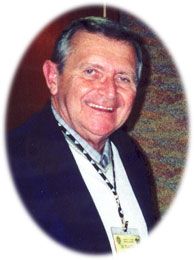 Tom Fleck
2004
The Walt Chyzowych Award is given annually to recognize and give thanks for a person's lifetime of dedication to preserving the spirit of the game of soccer, advancing its level of play and promoting its growth and development among youth and adults nationwide.
The inscription on the 2004 Walt Chyzowych Memorial Fund (WCMF) Annual Award reads:
Educator, Coach, Author, Administrator, Confidante and Friend
Tom Fleck, an All American at West Chester State University and Walt Chyzowych, an All American at Temple were opponents on the playing fields of Philadelphia in the late 1950's.
Their personal rivalry continued into the professional American Soccer League (ASL) with Fleck playing for the Uhrik Truckers and Chyzowych leading the Philadelphia Ukrainians. Later the two challenged each other as opposing coaches with Fleck mentoring Lehigh and Chyzowych leading Philadelphia Textile.
While Walt Chyzowych continued his playing and coaching career, Tom Fleck continued his education with a graduate degree from Temple and a Doctorate from Lehigh (1970). Achieving such, Dr. Tom Fleck, soccer player and coach became one of only a handful of soccer persons recognized with the penultimate degree, a status which would be most helpful in his emergence as a leader in American soccer, specifically in the area of youth soccer competition.
In 1978 Dr. Tom Fleck became the United States Soccer Federation's (USSF) first Youth Coordinator as the sleeping giant of American youth soccer needed to be organized and administrated nationally by the governing body.
After a three-year sojourn into professional soccer as General Manager of the NASL's Philadelphia Fury, Dr. Tom Fleck returned to his main interest, a devotion to America's youth serving a 13-year term as Director of Educational Services and Coaching for the Florida Youth Soccer Association. Fleck lead Florida Youth Soccer to a leadership position in player development and administrative support for emerging programs. An additional seven (7) year stint in a similar capacity for the State of Idaho helped spread Dr. Fleck's wisdom and expertise west of Mississippi.
During this twenty (20) year period of Tom Fleck's career he additionally served as: President of the National Soccer Coaches Association of America (NSCAA), helped found the NSCAA Academy program; and served as technical advisor for the United States Soccer Federation (US Soccer) for the 1980 World Youth Championship (TUNSIA) and the 1994 USA World Cup. Dr. Fleck became further recognized internationally as a leading soccer intellect in the area of youth soccer when he spoke to UEFA Coaches on the subject at Wembley, England in 1998.
Dr. Tom Fleck has authored no less than ten (10) youth soccer coaching manuals and parental guides for players ranging from under six years of age to under 12 and has made countless appearances nationally speaking in the subject of youth coaching and teaching.
From 1975 to present Tom Fleck has served as a National Staff Coach to US Soccer and from 1980-1985 for NSCAA Academies. But from 1995 to present, Dr. Fleck's presence has been most notably felt as a clinician at US Soccer's National Youth Course, for which he had significant involvement in curriculum development. In many ways, it was Dr. Fleck's knowledge and expertise in the area of youth soccer teaching and coaching, which led to the USA's emergence as a youth soccer power internationally.
As a friend and confidante to Walt Chyzowych, often by his side in those serious problem solving times, Tom Fleck had major input into the decisions which has led the United States to the position in worldwide soccer it holds today.
Tom Fleck's career has not been unnoticed or unrewarded however. Among the honors previously bestowed on Dr. Tom Fleck are:
Torch Bearer (Boise, ID) Salt Lake 2002 Olympic Torch Relay
National Soccer Coaches Association Life Service to Youth Achievement Award, 1996
Eastern Pennsylvania Soccer Hall of Fame
N.S.C.A.A. Exceptional Services Award
Order of AHEPA, Outstanding Service Award
Tom Fleck joins a list of outstanding soccer personalities as the Walt Chyzowych Memorial Fund's distinguished Service Award's ninth recipient.
--Press release, December 2003