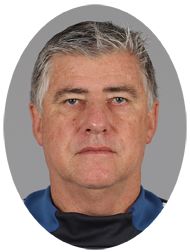 Sigi Schmid
2011
The Walt Chyzowych Memorial Fund (WCMF), in conjunction with the NSCAA Foundation, the philanthropic arm of the National Soccer Coaches Association of America, has announced that Seattle Sounders (MLS) head coach Sigi Schmid is the recipient of the Walt Chyzowych Memorial Fund Lifetime Achievement Award for 2011.
One of the most recognizable figures in American Soccer, Schmid began his coaching career in 1980 as the head coach at his alma mater, UCLA. That began a 19-year collegiate coaching career that culminated with a record of 322-63-33, three NCAA national championships (1985, 1990, and 1997) and NSCAA National Coach of the Year honors in 1997.
Scores of Schmid's UCLA players have gone on to play professionally and internationally, including Chris Henderson, Brad Friedel, Paul Caligiuri, Cobi Jones, Eddie Lewis, and Carlos Bocanegra.
Schmid then moved into the professional ranks, taking the reins of Major League Soccer's Los Angeles Galaxy. His six-year stint there resulted in a 79-53-32 record. He led the Galaxy to championships in the US Open Cup and CONCACAF Champions Cup in 2001 and the 2002 MLS Cup.
After several years absence, Schmid returned to MLS as head coach of the Columbus Crew, leading that franchise to the MLS Cup in 2008 and earning MLS Coach of the Year.
Schmid also served as coach of the US Under 20 National Team at the FIFA World Championships in 1999 and 2005 as well as an assistant coach for the host United States at World Cup 1994. He also was an assistant for the US National B Team (1989-91) and head coach for the US teams in the 1991 World University Games and the 1995 Pan American Games.
Schmid is now recognized as the founding head coach of MLS' Seattle Sounders, winners of the past two US Open Cup titles in the first two years of the franchise's existence. His teams are known for their attractive style of attacking play, regularly performing before MLS' best crowds and most compelling stadium atmosphere.
"From the early days of US Soccer West Coast Coaching Schools, where I first met and worked with Walt Chyzowych, I was inspired by his leadership, love of the game and confidence in American coaches," Schmid said. "I have endeavored to be a positive role model like Walter. Just as he gave freely of himself to this great sport, I have strived to do the same. My hope is that the players and staff with whom I served will join me in sharing our knowledge, the stories, and the subtle nuances that help us all see the beauty of this game and what it can become in America," he added. "I am most pleased, humbled, and honored by this award."
"Sigi Schmid is now the active coach with the most MLS wins at 139," Stated Ralph Lundy, Executive Director of WCMF. "He has coaced in 316 MLS matches and his Seattle Sounders are the first team in 27 years to win back to back US Open Cups. He is recognized as a coach who thoroughly prepares his team while also focusing on player development. He is a perfect choice to be recognized for his contributions to the American game in the spirit of one of his mentors, Walt Chyzowych."
-- Press Release, December 2010