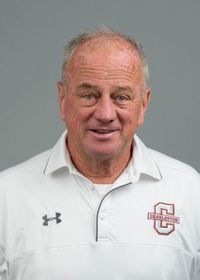 Ralph Lundy
2023
Ralph Lundy, former Head Coach of the College of Charleston and Erskine College will receive the 2023 Walt Chyzowych Fund Lifetime Achievement Award. Coach Lundy amassed 473 wins in a 46-year college coaching career highlighted with appearances in three NAIA and five NCAA Tournaments.
After graduating from Allegheny High School in Sparta, NC, lettering in three sports and being named Most Outstanding Athlete, Lundy attended Brevard College for two years where he played soccer and baseball. As Captain of the 1969 soccer team, he led Brevard to a sixth-place finish in the National Junior College Tournament.
Lundy transferred to Western Carolina where he was a three-sport athlete competing in soccer, wrestling and baseball for the Catamounts. In 1970, he helped lead the soccer team to an 8-2 record and a trip to the NAIA District V playoffs. He graduated in 1972 with a bachelor's degree in physical education and then accepted the position as Assistant Coach at Brevard for the Fall '72 semester, helping the team reach the Regional Finals. In Feb. 1973, Lundy entered the US Marine Corps Officer Training Program and after a two-and-a-half-year stint returned to Western Carolina as a Graduate Assistant receiving his master's degree.
In 1976 Ralph Lundy accepted the head coaching position at Erskine College. Over 11 years he compiled a 131-71-13 record with 10 winning seasons. He led the Flying Fleet to seven district titles and three NAIA National Tournaments. He also established the first women's intercollegiate soccer program in South Carolina, coaching that team to a 15-6-2 record while at the same time leading the men's team to the NAIA national tournament. Lundy was inducted into the Erskine College Athletics Hall of Fame where an annual award is given in his honor.
In 1978 Lundy earned his USSF "A" license and became a national staff coach in 1981.
Named Head Soccer Coach at the College of Charleston (CofC) in 1987, Lundy led the Cougars to 19 winning seasons and since the transition from the NAIA to NCAA Division I status in 1991, he led the CofC to five conference Championships and five appearances in the NCAA Tournament. He was also inducted into the South Carolina Youth Soccer Hall of Fame in its very first class.
In 1994 the Cougars had a perfect 8-0 TAAC record, earning its first NCAA Tournament bid advancing all the way to the QFs before losing to UCLA, 3-2. This was followed by four more trips to the NCAA Tournament with second round losses in 2004 and 2010.
In 1995, CofC earned its first national ranking, debuting as No. 17 in the Soccer America poll, qualifying again for the NCAA Tournament, losing to Clemson 2-0 and finishing the season nationally ranked at No. 19.
In 2006, Lundy was enshrined in both the Brevard College and Western Carolina Halls of Fame.
Upon retirement after the 2019 season, Lundy had amassed a record of 323-279-53 with the Cougars, bringing his lifetime college coaching record to 469-356-68, ranking Lundy 25th amongst Division I Coaches in wins at the time and 4th among active Division I coaches.
Lundy resides in Mt. Pleasant, S.C. with his wife Elizabeth, where he is currently Technical Director of the South Carolina Surf Soccer Club. They have three children: Harper, Ralph III and Lettie. Ralph III played for his father at CofC from 2009-12.