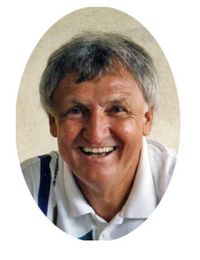 Nikola "Nick" Zlatar
2006
Nikola Zlatar was infected by the soccer bug playing with a rag soccer ball in the streets of war torn Belgrade. Graduating from Commerce High School in New York City in 1960, Nick captained the baseball team and was an All-City soccer player before moving on to New York University. Recruited to NYU by Mr. Allen Towbin, one of the founding members of the NSCAA, he was an All-American, All-State, a two-year captain, and played club ball in the German-American League. Upon completing his military obligation in 1967, Nick began coaching at Pratt Institute, an NAIA power at the time. Coaching soccer in the fall, baseball in the spring, teaching physical education, playing Sunday soccer, life couldn't get better.
George Donnelly, former President of the Southern New York State Soccer Association, was the coordinator for the first Dettmar Cramer coaching course. He was so impressed that upon his return he charged Nick and two colleagues to establish a state coaching course and state youth and senior teams. The "D" course was developed and adopted nationally, "E" and "F" courses followed and the State Youth Select Team evolved into the ODP.
In 1974, Nick received his "A" license, along with future staff coaches Bob Gansler, Joe Machnik, and George Vizvary. Shortly thereafter, Walt appointed Nick to the National Staff and named him East Regional Coach, a position he held for eight years. His responsibilities included the selection and coaching of the East Regional players for the Youth, Olympic, Senior and, eventually, the Women's Teams competing in the National Sports Festivals and Regional Tournaments.
Believing that knowledge is power, Nick always felt that coaching education was the quickest way to enhance player development and dedicated his energies to the coaching of coaches. In addition to the National courses, he served as Director of Coaching for Eastern New York until 2000, helped establish the Staten Island Soccer League, serving as their Director of Coaching for 25 years. He conducted clinics for the President's Council on Physical Fitness and Sports for over ten years. Nick has presented in Europe, South America and throughout the United States but his greatest joys have been the success of the American soccer player and seeing soccer become an integral part of the American sports culture.
In speaking of his friend and colleague, Nick said, "No one has had the impact on the game or the people that Walt Chyzowych had. As a writer once said, there are two ways of spreading light: to be the candle or the mirror that reflects it. There is no doubt that Walt was the candle."
In January 2000, Nick retired from Kingsborough Community College, and he and Doris enjoy the beach life in New York City and the Isle of Palms, South Carolina.
--Press Release, December 2005