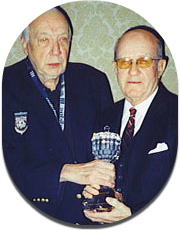 Mel Lorback
2002
In over forty (40) years of productive academic endeavor, Melvin M. Lorback has made outstanding contributions to the sport of soccer in the areas of coaching, administration, teaching, program development, research, writing, publishing, public speaking and more.
Mel Lorback and West Chester University (WCU) men's soccer were inseparable for 34 years. As the head coach of the Golden Ram program for more than three decades, Lorback amassed a wealth of athletic history that included a Division I National Championship. In 1961, the Golden Rams defeated St. Louis 2-0 in the NCAA title game, capturing the National Championship. That same year Lorback was named NSCAA "Coach of the Year."
In addition to the national crown, Lorback's teams have appeared in two national semifinals, won six NCAA Regionals and claimed three conference championships. Under his guidance, 16 of his players attained All-American status, while many of his former student-athletes have achieved coaching success at both the high school and collegiate levels.
Longtime Indiana University head coach Jerry Yeagley, a member of the 1961 National Championship squad and a previous winner of the Walt Chyzowych Award (1996), paid Lorback the ultimate compliment. "Coach Lorback was instrumental in my success as a coach. The instruction and lessons I learned playing for him were important in shaping my future. He truly taught me what it meant to be a champion."
McMurray College Coach, Bill Killen, Defensive MVP of the NCAA 1961 National Tournament while playing for Lorback's West Chester National Championship Team...and himself a Walt Chyzowych Award recipient (1998)…echoed Yeagley's comments. "Coach Lorback inspired me both on and off the field. He was a dynamic leader and role model. I think the world of Mel Lorback."
Among Lorback's most significant contributions to the game of soccer, was his work with Walt Chyzowych in the early US Soccer Federation's Coaching School Program. As an "A" Licensed US Soccer Staff Coach, Lorback undertook the most difficult assignments in the areas of sport psychology, leadership and physiology of exercise and through a pedagogical style using humor, sarcasm and down to earth reality as its base, was able to make these often difficult areas fundamentally understood by a generation of newly licensed coaching school graduates.
In addition to his coaching duties at WCU, Lorback served as the president of the National Soccer Coaches Association of America (NSCAA). In January of 1998, Lorback was awarded one of the highest soccer honors presented by the NSCAA when he received the Bill Jeffrey Award. In addition, Lorback has received a merit citation from the Intercollegiate Soccer Association of America, and the NSCAA Honor Award.
As a professor at WCU from 1957-91, Lorback taught undergraduate and graduate classes with a concentration in sports sciences and sport studies. He was published over 50 times during his career, including four manuals, 20 articles and 30 papers, including a unique role as editor and contributing editor to the Introduction and Sports Psychology sections of NSCAA's Coaching Soccer and is currently a member of the editorial board for Soccer Journal. At WCU he also served as the Physical Education Department chair for 12 years.
In retirement, Lorback divides his time between Philadelphia and Florida.
--Press Release, December 2001