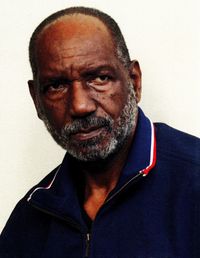 Lincoln Phillips
2020
Lincoln Phillips, former goalkeeper for the Trinidad & Tobago National Team, several NASL teams and Coach of Howard University's NCAA Championship teams of 1971 & 1974, is a recipient of the 2020 Walt Chyzowych Lifetime Achievement Award.
Playing four years (1963-67) for his native Trinidad & Tobago and winning a Bronze Medal in the 1967 Pan-American Games, Lincoln Phillips (nicknamed "Tiger") was once named the "Most Outstanding Goalkeeper in the Caribbean" and Trinidad & Tobago's "Goalkeeper of the Century". In 1968, Phillips was drafted by the NASL Baltimore Bays. But with the demise of that team he was recruited to be Player-Coach of the Washington Darts in the American Soccer League (ASL) where, as the ASL's Coach of the Year and All-Star Team Goalkeeper, he led the Darts to two Championship seasons. It is believed that Phillips was the first black professional soccer coach in the United States.
In 1970, the team moved to the NASL, where Phillips was named top goalkeeper setting records for consecutive shutouts and scoreless minutes, being named to the All-Star Team and leading the Darts to the NASL Championship Game. As a member of the NASL All Star Game Phillips played against Pele in an exhibition match vs. Santos of Brazil.
But it was at Howard University in 1970 that Phillips made his mark, leading the Bison as full time Head Coach to the school's first ever NCAA Final Four in any sport in his first season at the age of 29. In 1971, Phillips coached Howard to the NCAA Division 1 Championship, making Howard the first historically black college to win it. However, the NCAA controversially stripped Howard of its title for alleged player eligibility violations. The NCAA ruling has been subject of many articles including most recently in The Guardian and www.undefeated.com Phillips then led Howard to win the NCAA title again in 1974, the subject of which is a Spike Lee directed ESPN 30/30 episode "Redemption Song". In both seasons Phillips was named "Coach of the Year".
Howard University appeared in the NCAA Soccer Tournament eight (8) times during Phillips eleven-year tenure during which he compiled a 117-19-11 record.
After Howard, at which Phillips also earned a bachelor's and master's degree, Lincoln Phillips served for five years at Director of Coaching for the Maryland State Youth Soccer Association and worked with Walt Chyzowych as a member of the National Coaching Staff for US Soccer.
Upon being notified of his selection as a Walt Chyzowych Lifetime Achievement Award recipient Lincoln said, "I am deeply honored to receive this most auspicious award. Walt Chyzowych was a dominant force in the development of American soccer and to be so recognized brings joy to my heart. I am equally delighted sharing the spotlight with former award winners…and now Jill Ellis, a wonderful coach in every sense of the word."
In the area of great soccer camps in America, "The Lincoln Phillips Soccer School" (1975-2004) produced many US National Youth Team players while others went on to receive scholarships and play at top Universities. Lincoln's "Top- Flight Goalkeeping Academy" produced some of the nation's top goalkeepers and goalkeeping coaches. Among those influenced by Phillip's coaching include United Soccer Coaches Honor Award recipient Mike Curry, former MLS goalkeeper Zack Thornton and current US Military Academy Head Coach Russel Payne.
From 1989-1994 Lincoln Phillips was Head Coach of Virginia Commonwealth University, leading them to a top twenty ranking in 1993 and also served as goalkeeping coach for Loyola University's Women's Soccer Program (2013-14).
Phillips was named a FIFA Staff Goalkeeper Instructor (1995-96) conducting coaching clinics and workshops for FIFA in the Caribbean and Asia and later as Technical Director for the Trinidad & Tobago FA, Phillips played a role in helping his country qualify for the 2006 World Cup in Germany.
Lincoln Phillips is the author of "Goalkeeping: The last line of defense, the first line of attack" and "Call Me Coach". From the latter, Phillips describes a Coach as being "a mentor, friend, disciplinarian, taskmaster, therapist and confidant." Lincoln Phillips is all of these. Further he describes a Coach who "shapes and influences the lives of others…an awesome responsibility" that he has cherished from the first moment he was chosen to lead. He has led his life helping people become their best.
"Without a doubt, Lincoln Phillips' life epitomizes the values espoused by Walt Chyzowych and is the perfect recipient of the Walt Chyzowych Lifetime Achievement Award. His name is synonymous with Maryland/Virginia/DC Area soccer having played for various Baltimore area teams even while coaching and attending classes at Howard University," said Dr. Joe Machnik when speaking about his longtime goalkeeping comrade recently.
Lincoln Phillips has been married to his wife Linda for 55 years and they are blessed with four sons and five grandchildren.