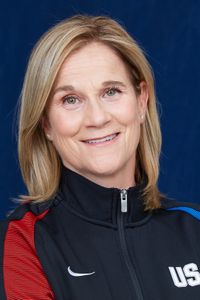 Jill Ellis
2020
Former US Women's National Team Coach and two time winner of the FIFA Women's World Cup, Jill Ellis is one of the recipients of this year's Walt Chyzowych Lifetime Achievement Award.
Upon learning of her selection, Ms. Ellis stated, "I am honored to be the recipient of this prestigious Award and humbled to now be included in an extraordinary list of past honorees. This Award speaks to the legacy of Coach Chyzowych who dedicated his life to advancing the growth of the game and in doing so pursuing his passion. I have certainly been fortunate to have had the amazing support of my family and friends on this journey, and want to sincerely thank the players and colleagues who have been instrumental in my career."
Recently recognized by FIFA as its "Best Women's Coach" Jill Ellis did not play organized soccer until her family moved to the United States in 1991 when she was 15, there being no organized soccer for girls in the UK in the 1970's.
As a youth player, Ms. Ellis captained the Robinson Secondary School in Fairfax, VA to the 1984 state championship the same year her club team, the Braddock Road Blue Belles, won the U19 national title. She went on to play forward at William & Mary (1984-87) and was named third team All-American.
After serving as Assistant Coach at NC State (1988-90), U. Maryland (1994-96) & U. Virginia (1997), Ellis became Head Coach at the University of Illinois where she led that team to its first ever Big Ten Tournament berth with a 12-8 record.
But it was as Head Coach at UCLA where Ellis achieved recognition and was named 2000 NSCAA National Coach of the Year after leading the Bruins to the NCAA Final in just her second season as Head Coach. Ellis led UCLA to eight NCAA Final fours including seven in a row (2003-2009) and finished her college coaching career with a combined record of 248 wins, 63 losses and 14 draws.
During this time, Jill Ellis also served as Head Coach of the US U20 and U21 Women's Teams leading those teams to a Nordic Cup title in Germany and to the FIFA U20 World Cup.
US Soccer appointed Jill Ellis to the full-time position of Development Director for US Women's National Teams in 2011 and along with April Heinrichs as Technical Director, oversaw programs and development impacting the careers of many of US players in the 2015 & 2019 FIFA Women's World Cups. In 2008, Ellis served as Assistant Coach to Pia Sundhage for the gold medal winning US Olympic team.
Following Sundhage's departure in 2012, Ellis served as interim Coach for two matches, both draws, during the Celebration Tour of the US Gold Medal campaign at the 2012 Olympics. Ellis was again appointed as interim coach in 2014 compiling a 3-0 record and finally named Head Coach on May 16th that year.
Jill Ellis' record as US Women's National Team Head Coach is unparalleled. Ellis led the team through qualification to the 2015 FIFA WWC winning that championship defeating Japan in the Final in Vancouver 5-2 in a game watched by largest US TV audience (25+million) for soccer, a record. At the end of 2015, along with many other awards, Ellis was named CONCACAF Female Coach of the Year and FIFA World Coach of the Year for Women's Soccer, the first time an American has been so named.
On July 7th, this year, Jill Ellis led the United States to win its fourth Women's World Cup and second consecutive. Ellis became the first Coach to win two Women's World Cups in history but also became the first National Team Coach to win two consecutive World Cups (men or women) since Vittorio Pozzo guided Italy to victories in 1934 & 1938. To culminate her career, FIFA once again named Ms. Ellis "Best Women's Coach" at its annual Award Ceremony.
"As we celebrate the 25th Anniversary of the passing of Walt Chyzowych," stated Chyzowych Fund executive Dr. Joe Machnik, "I can only think of how proud Walt would have been of the US Women's Team's results and what their performance, led most recently by Jill Ellis, has meant for the growth and development of all soccer in the United States."
Jill Ellis retired from US National Team Head Coaching Position with a record of 106 wins (the most all time) 7 losses and 19 draws. She will continue to work with US Soccer in the role of Ambassador.
Jill Ells grew up near Portsmouth, England. Her father, John Ellis, a former Royal Marines commando, was a longtime soccer ambassador for the British government, assigned to help create soccer programs worldwide, including Trinidad and Tobago and in Singapore where Jill lived for two years. In 1981 when the family moved to Northern Virginia, Mr. Ellis founded the Soccer Academy in Manassas.
Jill Ellis earned a BA degree in English Literature and Composition at William and Mary and in 2016, her Alma Mater awarded Ms. Ellis an honorary Doctor of Humane Letters at their commencement ceremony at which she delivered the featured commencement address.
Ellis lives in Palmetto Bay, Florida, a suburb of Miami with her wife Betsy Stephenson, whom she married in 2013, and their adopted daughter Lily.