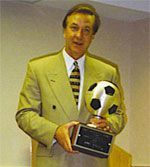 Jerry Yeagley
1996
The year Jerry Yeagley took the Indiana University Men's Soccer team to the varsity level was the year it became the nation's most successful collegiate program. It was 1973. He never looked back.
In those 24 years, IU has won more games than any other school. The team holds the record for winning the most NCAA Tournament matches, having qualified for the championships 21 times, including 10 consecutive appearances (1975-1985), a feat no other school has duplicated. IU also has made 10 Final Four appearances, more than any other school. The Hoosiers' overall winning percentage (.818) is the nation's highest and its NCAA Tournament winning percentage (.700) is second-highest.
Yeagley sits among the deans of college soccer, having served as Chairman of the NCAA Soccer Rules Committee and President of the Intercollegiate Soccer Association of America. He also sat on a panel with Pele, Franz Beckenbauer and Secretary of State Henry Kissinger, addressing the U.S. House of Representatives in an effort to bring the 1986 World Cup to the United States.
He was instrumental in developing the Big Ten Conference Tournament and has produced 32 All-Americans, six Olympians, more than 20 professional players and three World Cup Players. He also has sent more than 20 former players or coaches into the collegiate coaching ranks.
Yeagley's awards include:
1976, 1980, 1994 National Coaches Association Division I Coach of the Year (No other coach has won the title more than once)
1988 Pennsylvania Athletic Hall of Fame
1989 United States Soccer Federation Hall of Fame
-- Press Release, December 1995