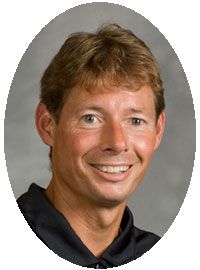 Jay Vidovich
2008
Jay Vidovich has not only grown into one of the top NCAA soccer coaches in the country, but he has brought the Wake Forest men's soccer program to uncharted waters. After taking over as head coach of the Demon Deacons in 1994, Vidovich has developed a nationally competitive program that consistently ranks in the top 25 against high-quality schedules. For his work as an educator and coach, impacting nearly every level of the Game, Jay Vidovich has been named recipient of the 2008 Walt Chyzowych Achievement Award.
On December 16, 2007 the Demon Deacons men's soccer team became NCAA champions for the first time in program history with a 2-1 win over Ohio State in Cary, N.C. The squad finished 22-2-2 overall and three athletes, senior Pat Phelan, junior Sam Cronin and sophomore Cody Arnoux were named All-Americans by the NSCAA. In addition, Vidovich was selected as the South Region Coach of the Year.
Vidovich, the most successful coach in Wake Forest soccer history, has an overall record of 187-81-27 in his 14 years, never enduring a losing season as a head coach. Wake Forest has reached the NCAA Tournament each of the past seven seasons, twice entering the tournament as the nation's top seed. In all, Wake Forest has captured three ACC regular season championships and posted a record of 110-31-15 over the past seven seasons. Vidovich has garnered three ACC Coach of the Year Awards and the Deacs have reached the Sweet 16 four times during that span.
Jay always knew he wanted to be a coach, and his love for the players and the teams that he has coached is apparent whenever you talk with him. He is a humble man who feels "unworthy" of this award named after his longtime friend and mentor, Walt Chyzowych. Jay served as an assistant coach under Walt for eight years at WFU before taking over the reins of the program. Both arrived at Wake Forest in 1986 and shared the sidelines until Walt's death just prior to the 1994 season.
Spend time with Jay and you know that he thinks about Walt every day as he sits at his desk with his pencil and training pad planning the next day's practice session. A restaurant cocktail napkin hangs framed above his desk with scratch notes in Walt's handwriting describing the perfect player. You can almost hear the conversation the two were having over a meal after practice.
Under Chyzowych's guidance, Vidovich gained experience in the international game as well as at the youth and collegiate levels, helping to develop some of the top young players in the country. Though the wins have added up over his career it is on the training field, teaching, where he is most comfortable. Several players whom Vidovich has mentored have gone on to achieve success at the national level, including Neil Covone, who played in the 1990 World Cup, and Craig Conger and Craig Johnson, who were members of the Olympic team. Others have gone on to achieve success in the pro soccer ranks, including Serge Daniv, Hesmer, Lowery, Parkhurst, Eddie Pope, Riley, Sealy, Ben Stafford and Josh Timbers.
Vidovich has also been active in a number of youth soccer programs, including service as a coach on North Carolina's Olympic Development Team staff. His credentials include a USSF "A" license and a NSCAA Advanced National Diploma.
Born in Detroit, Mich., Vidovich attended New Canaan High School in Connecticut, where he earned all-state accolades. He then played for Indiana on their nationally-ranked 1978 team before transferring to Ohio Wesleyan, where he was a three-year starter. In 1982, he served as captain while leading OWU to the NCAA semifinals.
In 1982, Vidovich received a bachelor's degree in physical education from Ohio Wesleyan, before proceeding to the University of Denver where he earned a master's degree in sports sciences in 1983. While a graduate student at Denver, Vidovich began his coaching career as an assistant on the Pioneers' 1982 team, which won the NAIA Division II district and regional championships. Vidovich coached two NAIA All-Americans and six NAIA All-West players on that squad.
In 1983, Vidovich moved on to Regis College. As an assistant, Vidovich again helped a standout team, which included two NAIA All-Americans and three All-West players. In his final stop before Wake Forest, Vidovich returned to his alma mater, Ohio Wesleyan, as an assistant coach. In his two years there, the team posted a combined 30-8-2 record, ranking among the top 10 teams in the nation.
Jay and his wife, Julie, live with daughters Zoe and Tess in Winston-Salem, NC.
-- Press Release, December 2007