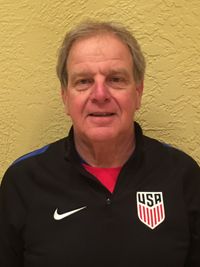 Jay Hoffman
2017
One of the most dedicated and respected coaches in US Soccer history, James (Jay) Hoffman, is the 2017 recipient of the Walt Chyzowych Lifetime Achievement Award. "Perhaps no single coach is more deserving of the Walt Chyzowych Award than Jay Hoffman, especially for his unprecedented work as Head Coach with the US Paralympic team which spanned an eleven-year (2003-2014) association with the USOC and US Soccer," stated Joe Machnik, a 2005 Chyzowych honoree.
Jay Hoffman's career of nearly fifty years started as a player at East Stroudsburg, PA from which he received both his BS and MS degrees. His first Head Coaching jobs were at Alderson-Broaddus College (74-76), Fredonia State (76-77) and Girard College in 1978. One year later he began his professional coaching career and long-time association with Timo Liekoski as Assistant Coach to the NASL's Houston Hurricane and Edmonton Drillers and later with MISL's New Jersey Rockets.
After a season as Head Coach of the Buffalo Stallions (MISL), Jay Hoffman rejoined Liekoski for a six- year stint as Assistant Coach of the Cleveland Force.
After completing US Soccer's "A" License in 1976, Jay Hoffman began a thirty-nine year US Soccer career as National Staff Coach, Women's National Team Assistant Coach (1999 FIFA Gold Medal), Women's Pan American Team Head Coach, Men's U20 National Team Assistant Coach (94-95) and Head Coach (95-97) and assorted other coaching, scouting and instructional positions within US Soccer including serving as author and co-author of Coaching Manuals, Technical Reports and the Project 2010 and Project Gold Performance Plans. Jay has been inducted into the Virginia Youth Soccer Hall of Fame.
In 2000, Jay Hoffman was appointed Head Coach of the Boston Breakers (WUSA) and in 2006 Head Coach of the Virginia Beach Mariners. From 2003 until his retirement in 2014, Hoffman served as Director of Academy Coaching, Coaching Education, Player Identification & Development for the Virginia Rush SC Youth Soccer Club. During this time, Jay completed the FIFA Club Management Seminar and started his career as Head Coach for both the USA Paralympic National and Olympic Teams which qualified for the 2004 and 2012 World Games.
Of the many awards and citations Jay Hoffman has received to date, he is most proud of the 2008 Dr. Thomas Fleck, US Youth Soccer Excellence in Coaching Education Award which honored his contributions to coaching at every level of the game; youth, collegiate, professional, national teams both men and women, ODP and, of course the Paralympic Teams.
The Walt Chyzowych Lifetime Achievement Award is yet further acknowledgement of his life's work. Upon being so notified Hoffman stated, "I am extremely proud to be the recipient of this award and want to thank the Committee for recognizing me as a reflection of Walt and his dedication and passion to the game and coaching education. To be thought of amongst the ranks of my peers and mentors who have previously received this award is a great honor."