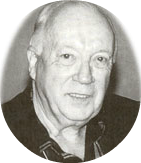 Dr. John Lawrence McKeon
2001
The name of Dr. John Lawrence McKeon is synonymous with that of American Soccer at all levels.
As a college coach, mentor to future coaching greats such as Bob Dikranian, Jay Hoffman, Jay Miller, Joe Bean, Jerry Sheska, Ron Quinn to name just a few, as an author and administrator, "Doc" McKeon's career has spanned fifty plus years.
Born April 18, 1923, John Lawrence McKeon attended Drake University, NYU and Springfield College from which he received his Masters and Doctorate degrees.
"Doc" McKeon began his college coaching career in 1953 at the University of Bridgeport where he coached national level teams including the 1959 NCAA Runner-Up and the third place team in 1961.
After a brief stint at Montclair State College (1965-66), "Doc" moved on to East Stroudsburg State where his teams appeared in seven NCAA National Tournaments and he taught both undergraduate and graduate courses to hundreds of future physical educators and soccer coaches.
But being at the top of the college game was not enough for "Doc" McKeon, as the NASL was where the action was in the late 70's and early 80's. So "Doc" took a sabbatical leave to work as head North American Scout for the Montreal Manic and Special Assistant to the Tampa Bay Rowdies.
As third Vice President of the United States Soccer Federation, "Doc" was publisher of Soccer Monthly magazine and was the driving force behind twelve reprintings of Dettmar Cramer's Coaching Manual. In 1974 "Doc" served as Chairman for World Cup Ticket Sales for the United States...placing the U.S. first in the world in total sales for non-competing nations.
John Lawrence McKeon has served the National Soccer Association of American (NSCAA) as a member of its Executive Board (1981-93) and as Executive Director, Secretary and President receiving NSCAA's Letter of Commendation (1966) and Honor Award (1989). In 1976 McKeon received the Bill Jeffery Award "for outstanding contributions to college soccer" from the Intercollegiate Soccer Association of America and in 1995, McKeon was inducted into the Soccer Hall of Fame at Oneonta, New York.
When apprised that his former coach at East Stroudsburg (1969-72) was selected to receive the Walt Chyzowych Memorial Fund Distinguished Service Award, newly appointed Boston Breakers (WUSA) coach Jay Hoffman said "'Doc' has been a guiding influence in my life and the life of so many others. The Walt Chyzowych Memorial Fund Award is a fitting tribute to 'Doc's' lifelong dedication to the game and its participants.
--Press Release, December 2000