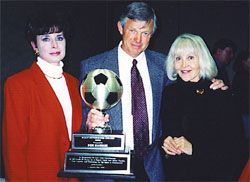 Bob Gansler
2000
Like Walt Chyzowych, Bob Gansler was there in the beginning. As a premier player in America, Bob Gansler appeared twenty-five times for U.S. National Teams between 1963 and 1969. Gansler played on the 1963 and captained the 1967 Pan American Teams and captained the 1964 and 1968 Olympic Teams. He also played on the 1968-69 National Team attempting to qualify for the 1970 World Cup. Walt Chyzowych knew Bob Gansler as a player... playing on some of those early U.S. teams and against each other in national competitions.
In 1974 on the achievement of his "A" coaching license, bestowed upon him by then U.S. Soccer Director of Coaching, Walt Chyzowych, Bob Gansler was ready to step into the national soccer coaching limelight. Gansler had already been coaching state high school championship teams at Marquette University High School and the National Amateur Cup winner, Milwaukee Bavarians.
It was Walt Chyzowych who selected Bob to serve as his assistant coach for a succession of national team assignments starting with the 1978 and 1982 World Cup qualifying efforts, the 1979 Pan American team and the highly successful 1980 Olympic team.
Then with Walt's guidance, Bob Gansler led the U.S. under 19 National Team (1979-82) to its first ever berth in the World Youth Championships. Later in 1989 this Gansler led team (now under 20) compiled the best ever U.S. performance by a youth National Team, finishing in fourth place in the Youth World Championship played in Saudi Arabia. During the 1980's Gansler also served as coach of the University of Wisconsin - Milwaukee where in addition to producing winning teams with local players he mentored young coaches such as assistants Sasho Cirovski (now head coach at the University of Maryland) and Brian Tompkins (now head coach at Yale University).
Walt Chyzowych then further recognized Bob Gansler's coaching and leadership abilities, recommending him as head coach of the U.S. National Team seeking to qualify for the 1990 World Cup in Italy to U.S.S.F. President, Werner Fricker. It had been forty years since America had so qualified. And, holding true to form, this Gansler led team, with players who's names have become a virtual who's who in American soccer -- Caligiuri, Harkes, Meola, Ramos, Balboa to name a few -- performed the unlikely feat: qualifying for the World Cup and accelerating the modern day soccer evolution in America.
Through these times, Bob Gansler and Walt Chyzowych were constant companions. Serving as each other's technical advisor, confidant and friend. Also during this time, Bob Gansler was a constant and steady fixture at U.S. Coaching Schools, later serving as' Director of Coaching and Player Development for U.S. Soccer, a role that enabled his further impact on coaching education and the U.S. Game.
In the 1990's, State Director of Coaching positions in Idaho and Wisconsin were sandwiched around a three-year coaching stint with the "A" league, Milwaukee Rampage winning the championship in 1997.
Now, Bob Gansler is faced with a new challenge... reversing the playing field fortunes of Major League Soccer's (MLS) Kansas City Wizards. Everyone involved in soccer realizes that it is only a matter of time before he succeeds. All of the hundreds of national team players and thousands of coaches Bob has taught also realize that the current group of Wizard players will come to know a coach who has dedicated an entire lifetime to the development of soccer in America and has done so with class, decorum and perspective. And he has done so with a profound memory and appreciation of the contributions of Walt Chyzowych...his long time partner in a campaign, which just now, after thirty plus years, has begun to bear fruit.
Upon being informed of his nomination to receive the fifth annual Walt Chyzowych award, Gansler said, "This award is beyond special... to be recognized of worth in Walt's name is an extraordinary honor. Walter Chyzowych's intense passion for and comprehensive contribution to our game remains the measuring stick for the U.S. coaching community. And we miss him..."
--Press Release, December 1999