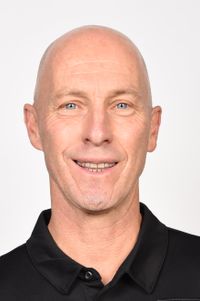 Bob Bradley
2021
Robert F. "Bob" Bradley, former U.S. Men's National Team Coach, and current Coach of the Los Angeles Football Club (LAFC) of Major League Soccer (MLS) is the recipient of the 27th Walt Chyzowych Lifetime Achievement Award.
Upon learning of his being named a Walt Chyzowych Lifetime Achievement Award recipient, Coach Bradley stated: "It is a great honor to receive this award from the Walt Chyzowych Fund. I believe in the mission of the Fund and United Soccer Coaches Foundation to provide resources to aspiring American Coaches, and I thank Dr. Joe Machnik, Gene Chyzowych Jr, and everyone involved with the Fund for continuing to grow soccer in this country".
Bradley has performed his magic at every level of soccer in the United States, has achieved recognition for his accomplishments in several European countries and as National Team Coach of Egypt attempting to qualify for the 2014 World Cup where he was affectionately known as the "American Pharaoh". He most recently led LAFC to within one goal of winning The CONCACAF Champions League title after defeating three LIGA MX teams with come-from-behind victories.
Born in Montclair, N.J., Bradley played for West Essex High School and Princeton University. After graduating from Princeton, he enrolled in the Sports Management Program at Ohio University, where in 1981 he was named as Head Coach at the age of 22. He later served as Assistant Coach and Scout for Bruce Arena at the University of Virginia before taking the job at Princeton in 1984, where he won two IVY League Championships and reached the NCAA Final Tournament in 1993.
In 1996, Bradley again served with Bruce Arena as Assistant Coach for DC United in MLS' first season, which began a long association with MLS. He coached the Chicago Fire to MLS Cup and US Open Cup Championships in 1998, the club's first year during which Bradley was named MLS Coach of the Year. He also coached MLS' NY Metro-Stars and Chivas USA. Bradley has won three MLS Coach of the Year Awards, most recently in 2019 with LAFC, and now ranks third for most wins in league history.
However, it is in his role as Head Coach of the U.S. Men's National Team where Bradley, in his first year, achieved a record of 12-1-5, which included a win over Mexico in the 2007 Gold Cup Final.
In 2009, Bradley led the U.S. team to a second-place finish in the FIFA Confederations Cup, beating Spain 2-0 in the Semi-Final and ending Spain's 35 game unbeaten streak before losing in the Final to Brazil, 3-2. A successful CONCACAF qualifying campaign led the U.S. to the 2010 World Cup where Bradley's team won Group C before losing to Ghana in the knockout stage in overtime.
In September 2011, Bradley was hired by Egypt to Coach their National Team (22w-6D-8L) in the qualifying phase of the 2014 World Cup. Egypt was perfect in its first six games before losing to Ghana in the third-round playoffs.
In January 2014, Bradley signed to manage Stabaek Football Club in Norway (38W-11D-23L), making him the first American to manage a club in top level European competition. He later coached at Le Havre AC (France) in Ligue 2 (17W-10D-10L) and missed promotion into Ligue 1 based on a goal scored tiebreaker.
In 2016, Bradley was appointed Coach at Swansea City becoming the first American to Coach in the Premiership.
Returning to the U.S., Bradley was named Head Coach of LAFC for its inaugural MLS season, winning the Supporter's Shield in 2019 and again being named MLS Coach of the Year.
"Representing the Walt Chyzowych Fund, I have been in communication with Bob Bradley for several years about our desire to recognize his accomplishments with a Lifetime Achievement Award," said Dr. Joe Machnik. "However, Bob was always out of the country at the time of the United Soccer Coaches Convention and we believed it important to honor him in person in front of his peers. With the Convention scheduled in Anaheim, the perfect opportunity presented itself. How ironic it is, that we now will have a virtual presentation. Regardless, this will be an incredibly special occasion recognizing one of the most successful coaches in U.S. Soccer history and one who has been deserving for an exceptionally long time."
Bob Bradley is married to spouse Lindsay, their son, Michael, has captained the U.S. Men's National Team to many of their most significant victories and has played in the Eredivisie, Bundesliga, Premiership and Serie A before returning to MLS with Toronto FC. Their daughter, Ryan, is married to Andy Rose, a player for MLS' Vancouver Whitecaps FC.
January 5, 2021