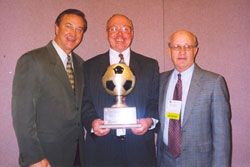 Bill Killen
1998
For Bill Killen, soccer is life; and life means soccer.
Since 1963, he has served as head coach for nine collegiate programs, helping many complete their best seasons ever. He also has been instrumental in sculpting the future of U.S. soccer, having served on and directed several national programs for coaching and youth development.
Among many significant contributions to the game, Killen has served as a United States Soccer Federation (USSF) Staff Coach for more than 20 years and was Chairman of Development and Clinics for the National Soccer Coaches Athletic Association and Intercollegiate Soccer Athletic Association. He was selected to serve as National Coordinator for the USSF National Coaching Schools and is a USSF Region II (mid-west) Olympic Development Staff Coach.
Under Killen's four-year direction, the University of Akron Men's Soccer Team participated in the NCAA Division I National Tournament each year. At Yale University, he helped turn the program around, giving them their first winning season in 20 years in 1977. While at Old Dominion University (1978-1985) the team was ranked in the Top 20 of the NCAA Division I standings each year. The men's soccer program at MacMurray College, where Killen has been head coach since 1985, has won the Prairie College Conference Championships every year from 1985 to 1990. In 1991, when they moved to the St. Louis Intercollegiate Athletic Conference (SLIAC), the team completed its best season in the school's 31-year history, becoming quarterfinalists in the NCAA Division Ill National Tournament. The team won the SLIAC championships four of seven years and were finalists all but one year.
Dozens of Killen's former players have gone on to become All-Americans, National Team and Olympic Team players and professional players and coaches.
Killen's awards include:
1985 to 1990 Prairie College Conference Coach of the Year
1989 NCAA Division Ill Mid-West Coach of the Year
1990, 1991 St. Louis Intercollegiate Athletic Conference Coach of the Year
1991 Mid-West Coach of the Year
--Press Release, December 1997