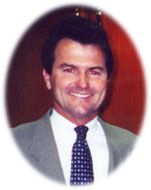 Anson Dorrance
1997
Coaches, players and sports reporters call it a "Dynasty." Under the coaching of Anson Dorrance, the North Carolina Women's Soccer program has amassed an overall record of 390-16-10. In 18 years, the program has scored 1,888 goals and given up only 188. Fourteen of the 17 national women's championships belong to them; that's more national titles than any other ACC sports team, men's or women's. They have captured nine of the 10 Atlantic Coast Conferences and hold 13 NCAA crowns.
In 1985, while continuing to coach North Carolina, Dorrance helped form the first U.S. Women's National team. Six years later, he led that team to become world champions, winning the first ever Women's World Cup in 1991.
Dorrance also played a crucial role in the 1996 Summer Olympics, when the U.S. Women's Soccer Team captured the Olympic Gold Medal. That winning team featured two assistant coaches, seven of 16 active players and three alternates who were either current or former Carolina stars. When the United States took the 1997 Nordic Cup Gold Medal in the U-20 division, the team included eight current Tarheels.
Among Dorrance's awards:
1987 Men's National Coach of the Year
1982, 1986 Women's National Coach of the Year
1989 South Region Coach of the Year
1987, 1990, 1991, 1993, 1996 ACC Women's Soccer Coach of the Year
1991 Named by Soccer America as one of the "20 most influential men in soccer in the last 20 years"
1995 Soccer America's one of 25 most influential people in the history of American soccer; one of only three coaches named, and the only women's coach selected.
--Press Release, December 1996