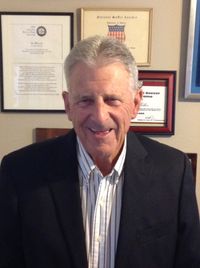 Al Miller
2019
Al Miller, a legendary soccer coach and executive who achieved success at every level of soccer, indoor and outdoor, from collegiate to the professional ranks, is the recipient of the 2019 Walt Chyzowych Lifetime Achievement Award. Upon learning of this award Miller said, "I am honored to receive this prestigious Award. Walt was a great friend and asset to our sport. I have so many wonderful memories of our conversations regarding moving the game ahead. Soccer was a labor of love for the both of us. I loved him like a brother during my years in Philadelphia. It would take me a month to tell all the Walt stories that we shared back in those days. I admire and think of all the coaches who have kept his name alive with this Award and am humbled to join the list of recipients."
Al Miller burst onto the soccer scene at East Stroudsburg State College, where he earned second team All American recognition in 1958 and 1959 and at which he was inducted into its Athletic Hall of Fame in 1995.
Miller's first collegiate soccer coaching position at New Paltz State University (three NY Conference Championships in six years- Hall of Fame 2008) brought him significant recognition leading to his appointment to the Head Coaching position at Hartwick College in Oneonta, NY. Miller's record at Hartwick was 64-12-3 and included a 1970 NCAA Final Four appearance and a 14-1 record. He was inducted into the Hartwick College Hall of Fame in 1995.
Soccer at Hartwick became a major college sport under Miller's leadership. Hartwick was the first collegiate team to tour Europe and their home games at Elmore Field among the first nationally to charge admission and be broadcast on radio. Oneonta became known as "Soccer City USA" and was the home of the first Soccer Hall of Fame. Miller's Hartwick teams also hosted the nation's first collegiate indoor tournaments attracting teams from all over the Eastern seaboard to Hartwick's Binder Gymnasium.
Among the many players who played for and were positively influenced by the leadership and character of Al Miller and his legacy at Hartwick and that of Timo Liekoski (Chyzowych Award 2016) and Jim Lennox (Chyzowych Award 2013) who continued the Hartwick tradition were Eddie Austin, Glen Myernick, Tony Elia, Dominic Kinnear, Dave D'Errico, Billy Gonzonas, Doug Wark, Mike Burns, and Keith Van Eron.
Always looking to increase his soccer knowledge and experience, Miller was one of the first coaches to receive the "A" Coaching License from Dettmar Cramer. He toured the US as Cramer's assistant for the USSF's National Coaching Schools and was Cramer's Assistant Coach with the Olympic and National Teams. In 1973 Miller accepted the challenge of coaching at the professional level with the expansion Philadelphia Atoms of the NASL. The Atoms were built around a core of American players (Bobby Rigby, Stan Startzell, Barry Barto, Bobby Smith), several quality English players on loan, and after a 9-2-8 regular season defeated the Toronto Metros (3-0) and Dallas Tornado (2-0) to take the NASL title in the Club's and Miller's first year. Miller received the Sporting News Professional Coach of the Year.
In subsequent years Miller also coached Dallas, the Calgary Boomers and Tampa Bay Rowdies. In 1983 Miller guided the Rowdies to their third indoor title, joining at the time, Eddie Firmani and Ron Newman as the only coaches who had won both indoor and outdoor NASL titles. From 1984-1988, Al Miller managed the Cleveland Force of the MISL, a team coached by Liekoski and Jay Hoffman (Chyzowych Award 2017).
A year later Miller was appointed President/General Manager of an expansion franchise in Cleveland. During his ten-years the Cleveland Crunch won three NPSL Championships (1994, '96 and 1999)
In recognition of Al Miller's multifaceted career, US Soccer inducted him into the National Soccer Hall of Fame in 1995.