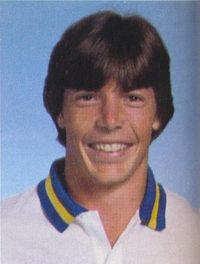 Rick Davis
2022
Also being honored on January 22nd is former US Men's National Team and New York Cosmos player Rick (Ricky) Davis, considered the outstanding American player of the 1980's. Davis will receive a WCF Distinguished Playing Career Award, the third such Award given to an individual player after Landon Donavan and Michelle Akers.
Davis played his first game for the United States in September 1977 and scored his first full international goal just six (6) minutes into that game. He went on to play thirty-five (35) full internationals for the US which was a record at that time. He was named Captain of the team from 1984 onward, leading it to the 1884 and 1988 Olympic Games. Perhaps, his best game was in the 1984 Olympics when he scored two goals in a 3-0 win over Costa Rica.
Rick Davis played for the New York Cosmos from the start of the 1978 season and played through 1984 a total of 154 NASL games as well as participating in several Cosmos worldwide tours. He was a member of the 1978, 1980 and 1982 NASL Championship teams and as a play-making mid-fielder scored fifteen (15) goals.
Davis also played in the qualifying rounds for the '82, '88 and the first two qualifying games for the 1990 World Cup before a knee injury ended his outdoor playing career.
Davis also started playing in the MISL in 1983 for the Saint Louis Steamers (3 seasons) and later for the New York Express and Tacoma Stars. He was inducted into the US Soccer Hall of Fame in 2001.
Davis had this to say when he learned of the Award: "This Award is uniquely special to me because not only was Walt in so many ways responsible for starting my career (he was the one who gave me my first opportunity at the National Level), he was doing the same thing for the entire sport of soccer in the United States. I am honored to be a part of such a special group and like so many others, have benefitted from Walt's dedication to the game, his example and his legacy".