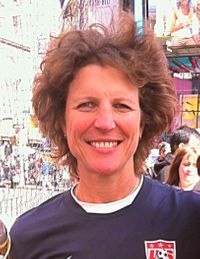 Michelle Akers
2019
Michelle Akers first received national recognition as a three time All American at Seattle's Shorecrest High School. Then, she became a four time All American at the University of Central Florida and, in 1988, the inaugural winner of the women's Hermann Trophy as the top female college soccer player.
However, Ms. Akers is best known for her accomplishments at the international level. She was an original member of the US Women's National Team, scoring the team's first goal in 1985 in a 2-2 tie against Denmark. During the first FIFA Women's World Cup played in 1991, Akers exploded for ten goals, won the Golden Boot as the Tournament's top scorer and scored both goals in the Final, a 2-1 win over Norway, making the United States World Champion.
Michelle Akers continued her dominant play during the USA's Gold Medal campaign in the 1996 Olympics and 1998 Goodwill Games and was honored that year with the FIFA Order of Merit for her positive contributions to soccer. Others who have received this prestigious award include Henry Kissinger, Pele and Nelson Mandela.
During the 1999 Women's World Cup, this time playing from a central midfield position, Akers again led the US Women's National Team to the Championship and was named to the tournament's All-Star Team. US Soccer Hall of Fame member and US Women's National Team Coach for the 1996 Olympics and 1999 FIFA Women's World Cup championship campaigns, the late Tony DiCicco, described Ms. Akers as "the best woman that has ever played the game" Her teammate, Mia Hamm, explains that Ms. Akers was "A warrior and our everything".
Following her 15-year international playing career, which included scoring 105 goals in 153 games, Ms. Akers was named FIFA Female Co-Player of the Century in 2000. Along with Mia Hamm, Ms. Akers was one of the only two women on FIFA's list of the 125 greatest living soccer players. Akers was inducted into the US Soccer Hall of Fame in 2004.
Ms. Akers currently resides on her farm in Powder Springs, GA where she devotes her time to her son, conducting soccer clinics and running the Michelle Akers Horse Rescue and Outreach, Inc. (www.michelleakers.org) a non-profit dedicated to the caring of abandoned horses and abused and unwanted animals.
Upon learning that she was to receive the Walt Chyzowych Fund Distinguished Playing Career Award, Ms. Akers reflected: "Walt Chyzowych devoted his life to making soccer better in our country. So, naturally, as someone who was so proud to be given the opportunity to represent the United States in international competitions, including winning the first Women's World Cup and the first women's Olympic Gold medal for our country, I am honored to receive this award. But, in doing so, it is important that I recognize and thank all my teammates, coaches, and other supporters because, while this may seem to be an individual award, soccer is a team sport, and no one wins an award without the help of many other people."