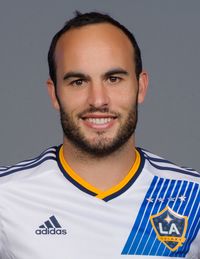 Landon Donovan
2017
Landon Donovan, widely recognized as the best player to wear a US Men's National Team jersey and the best American player to play in Major League Soccer (MLS), was honored by the Walt Chyzowych Fund with its very first Distinguished Playing Career Award.
Landon Donovan is the most decorated player in US Soccer history. A participant in two World Cups, Landon is the United States' all-time leading scorer (57 Goals) and assists leader (58 Assists). In his MLS club career, Landon won six (6) MLS Cup Championships as a member of the San Jose Earthquakes and Los Angeles Galaxy. He is also MLS' all- time leading goal scorer (145) and assists leader (136). He has been named MLS MVP (2009) and US Soccer Player of the Year four times. He led the US to four (4) CONCACAF Gold Cup Championships and was FIFA WC Best Young Player of the 2002Tournament. Landon's goal against Algeria, scored with just seconds to go in a 2010 World Cup match, won not only the match and the group for the US but won Landon ESPN's Greatest Sports Moment (ESPY) of 2010.
In 2013, after a brief hiatus from soccer, Landon led the US to the CONCACAF Gold Cup Championship and was named Tournament MVP, sharing the Golden Boot with five (5) goals and seven (7) assists. During a short-lived retirement of two seasons Landon Donovan involved himself in numerous charities such as the LA Galaxy Foundation, Kids 4 Kids, Make-A-Wish Foundation and the United Against Malaria Campaign.
Upon being notified of his selection as the recipient of the very first Walt Chyzowych Distinguished Playing Career Award Donovan said: "I am honored to be the first US National Team player to be selected to receive the prestigious Walt Chyzowych Award. Walt was a driving force behind the growth and development of soccer in this country and the United States Soccer Federation specifically, and I am grateful to Walt for his hard work and dedication to the game."