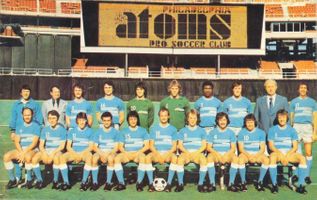 1973 Philadelphia Atoms NASL Champions
2023
The Philadelphia Atoms were founded by Philadelphia construction giant Thomas McCloskey in 1973. Playing a largely American line-up they won the NASL title in their expansion season - 50 years ago - by defeating the host Dallas Tornado 2-0. After this Championship match, Philadelphia goalkeeper and Delaware Valley native Bob Rigby became the first soccer player to be featured on the cover of Sports Illustrated.
The Atoms, coached by Al Miller, formerly of Hartwick College, were also part of what is considered the birth of indoor soccer in the US. On Feb. 11, 1974, they hosted the Soviet Red Army team at the Philadelphia Spectrum attended by 11,700 spectators and Philadelphia sport mogul Ed Tepper. The following year the NASL staged its first league wide indoor tournament and in December of 1978 Tepper and Earl Foreman started the Major Indoor Soccer League (MISL).
Walter Chyzowych was hired as a Consultant to the MISL in all areas soccer and hired Dr. Joe Machnik as its first Referee-in Chief.
The first Philadelphia Atoms roster included many players who went on to play significant roles in the growth and development of soccer in America. Each player will receive a Walt Chyzowych Distinguished Playing Career Award.
Players from the US included Bob Rigby, Barry Barto, Bobby Smith (National Soccer Hall of Fame), Lew Meehl, Casey Bahr, Charles Ducilli, Bill Straub, Norm Wingert, Stan Startzell, Manny Schellscheidt (National Soccer Hall of Fame -Germany/USA) and George O'Neill (Scotland/USA). The line-up also included England's Roy Evans, Chris Dunleavy, Jim Fryatt, Derek Trevis; Scotland's Andy Provan, Jamaica's Raymond Parris, and Germany/Australia's Karl Minor. Coach Al Miller was recognized as the 1973 NASL Coach of the Year, received the 2019 Walt Chyzowych Lifetime Achievement Award, and was a 1995 inductee into the National Soccer Hall of Fame!