The Walt Chyzowych 4 v 4 Tournament, held each year during the United Soccer Coaches Convention, has consistently been summed up with one word – "WOW!" Where else can you see Division I, II, III, NAIA and high school coaches fighting it out on the soccer field?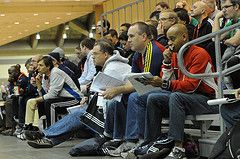 The Tournament consists of 32 teams. In the first round each team plays three 12-minute games on one of four fields. Sixteen teams advance to the next round followed by four quarterfinal matches, the semi-finals and lastly the final match.
Annually, upward of 2000 spectators cram the United Soccer Coaches Convention Center Hall to see the Finals of Walt Chyzowych 4 v 4 Tournament sharing the memory of Walt Chyzowych while watching coaches play for fun, but with competitive zeal...just like in the old coaching school staff games.
Due to the 2021 Convention taking place as a virtual event, there will be no 4 v 4 this year. See you on the field in 2022!
Why it's named the Walt Chyzowych 4v4 Tournament...
Walt loved small-sided games and promoted their use and importance in technical speed and tactical awareness, often espousing one- and two-touch competition while at the same time encouraging players to take on defenders and build play from the back. Walt pioneered this strategy despite criticism from soccer organizations and parents alike who were reluctant to abandon full field 11v11 training.
Today, nearly 50 years after Walt advocated this concept in American Soccer, his vision is reality as small-sided games are the foundation of US Soccer's and the United Soccer Coaches' educational programs for coaches nationwide.